I'm sure you've heard the one about the dyslexic agnostic insomniac who stayed up all night wondering if there was a dog, right? For some reason, that joke always comes to mind when I realize parallels between my dog's behavior and my own lack of faith.

Currently it's 4:42am and I'm awake. I shouldn't be awake, but I am. And so is the dingo. Why? Because it's late March. I went to bed at a respectable 12:30, but was awakened by the strange sounds of Duke trying to break into the litter box area behind the bathroom door and under the baby-gate that is there to prevent his indulgence in kitty-box crunchies.

You're probably wondering where I'm going with this, but let me explain...

Duke loves me. He loves me in a little bit of a psychotic way, though. When I come home he is beside himself even if my time away consists of running out to my car to get something and returning in through the front door. When I am away, he will curl up with my pillow just to breathe the scent of me. If I've been gone more than an hour, when I return home, he will attempt to sit on my lap -- all 100 pounds of him. When I walk from room to room, he follows. He adores me. In fact, and here we go with our parallel -- he worships me.

In Duke's world, I am lord. I am the provider of all that is good. I give him food, I give him love, I anticipate his every need and I provide. I see in his adoration a respectful pattern of what I know God wants from us.

I am sometimes ashamed of myself, even, in watching the way Duke clings to me, knowing that I fall short of that same clinging to my Lord and Savior. But at 5:00 AM, I am being taught a lesson. In fact, I was awakened from a peaceful sleep just to learn it.

Despite being the center of Duke's world, there is a time when his faith in me falls short. That time is at the very moment the first rain drop falls. I don't know why, but this big beast of a dog is terrified of the rain. You might remember he is a yellow lab -- a water dog -- so the fear he demonstrates seems especially unnatural. Nevertheless, I was awakened about half an hour ago having never even heard that first drop. In the past thirty minutes, however, a full thunderstorm has moved overhead, and spring has officially arrived.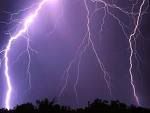 Duke is now tethered to my arm with a leash, and he is panting feverishly in stress. This is after many attempts to pacify him with measures that extend even to putting his favorite pillow in the bathtub to entice him into the porcelain protection behind the curtain. In his fear, he wants just one thing -- a cave in which to hide away from the danger. Rather than clinging to me for protection, he switches on his own self-survival and rejects any of my efforts to demonstrate my love and desire to protect him from harm.

And that's when those two important brain cells connected in my own head.

For Duke, the rain in his world is literal, but in my own life, the rain sometimes falls figuratively into an otherwise peaceful day. The stress of life, whether it is in the area of parenting, finance, health, or family, sometimes finds me in self-survival mode rather than depending upon my Lord to meet every need. He is immovable, just waiting for me to see Him there demonstrating His love for me and His desire to protect me from harm.

Yet in my own panic, I sometimes miss that point as the thunder roars around me and I perceive danger that doesn't exist.

It's nearly 5:30, now, and the thunder and lightning have passed. Through the open window I can still hear the last bit of light rain and the distant thunder. Duke has now stopped panting, and though he is still tethered to my arm, I can hear him breathing rhythmically, asleep on the floor. He has survived another storm.

And when the next rain falls into my life, I pray I will remember this night and this lesson learned. I needn't run nor panic in a storm. Rather, I need only cling to Him who will protect and provide. Sometimes He will calm the storm; sometimes He will calm the child. But He will never leave me to fend for myself.